Skull Style
Skulls in Contemporary Art and Design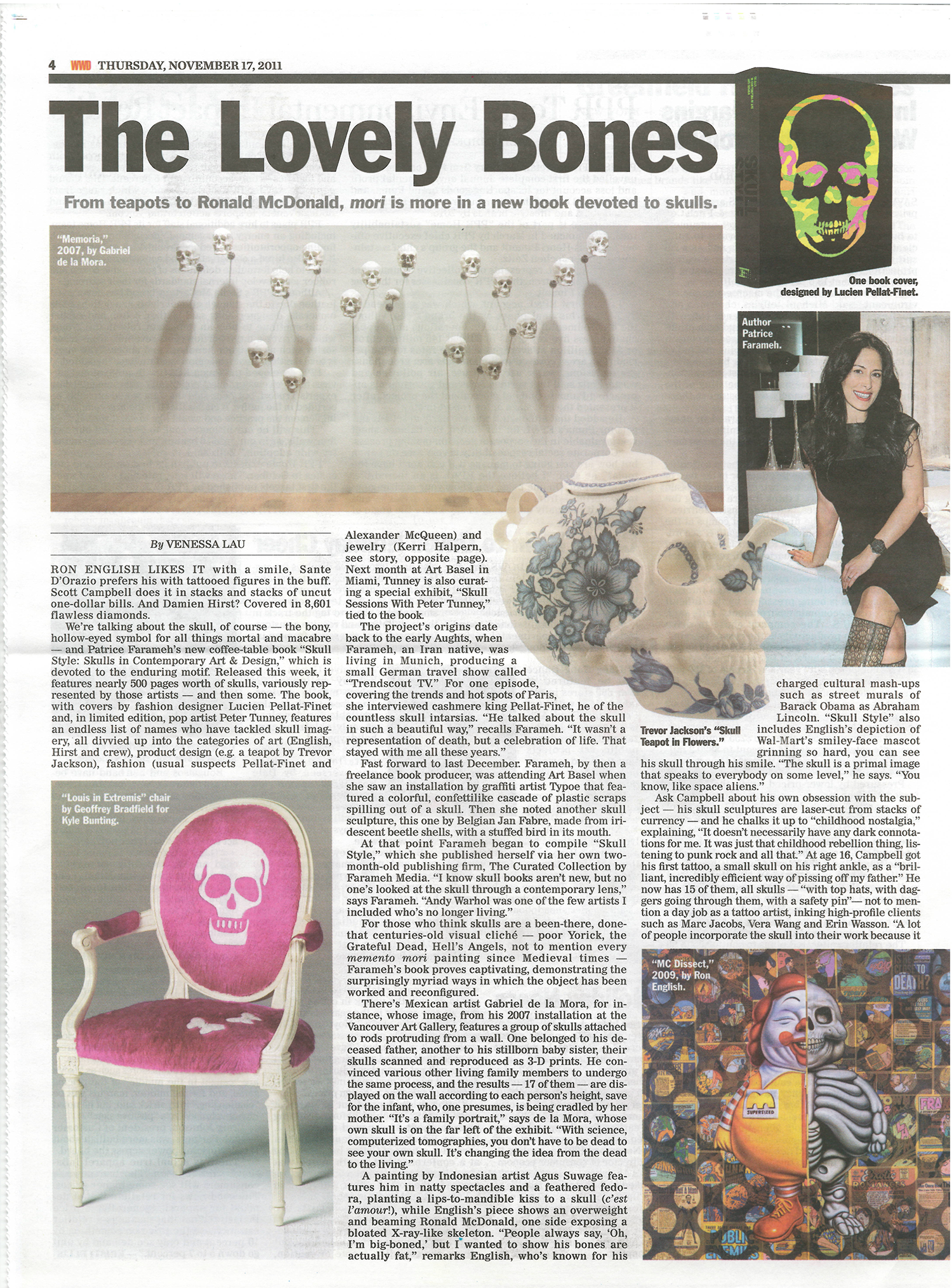 Produced by
Patrice Farameh
Designed by
Susanne Schaal
Cover Art by
Lucien Pellat-Finet
Published by
The Curated Collection
Skull Style is a beautifully designed book that presents not only one of the most ancient symbols used in the history of mankind but how it is utilized in the most surprising and modern way today. Formerly an emblem of evil and mortality, the skull has been transformed into an avant-garde design element used in the most cutting-edge art, chic interiors and vanguard style of the moment. Whether embellished on costly T-shirts, woven on limited edition chairs, and even encrusted with diamonds sold at an art auction for $100 million, the skull is no longer just a daunting memento of our frail mortality but a contemporary figure of fashion. This 500-page book shows how this once morbid trinket of death has been reinvented into the much-desired decoration by the trendsetters of tomorrow.
Live your life today for you will be gone tomorrow.
496 pp. glow-in-the-dark hardcover available in four different versions encased in a special box
34.3 x 24.8 cm
13.5 x 9.75 inches
Limited Fine Art Editions
Skull Style: Skulls in Contemporary Art and Design
Limited to 1,000 copies, each numbered and hand-signed by the artist.

Concept by
Patrice Farameh

Original Cover Artworks by
Peter Tunney

Published by
The Curated Collection

Acrylic paint and gold, hand-pulled double silkscreen on Skull Style Limited Edition book cover. Each book is signed and numbered by the Artist with personalized and collaged endpages.

34.3 x 24.8 cm
13.5 x 9.75 inches

496 pp. hardcover with acrylic case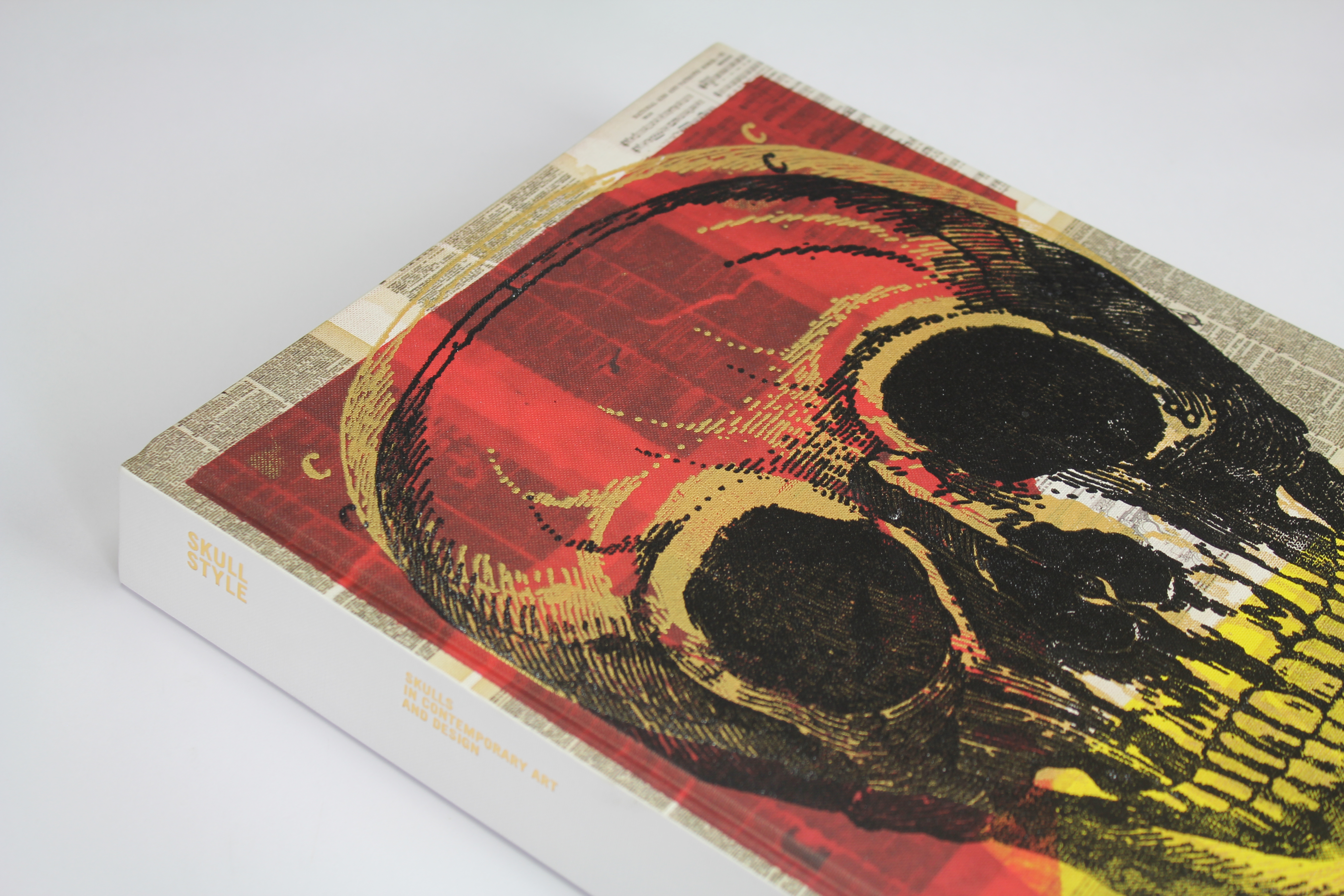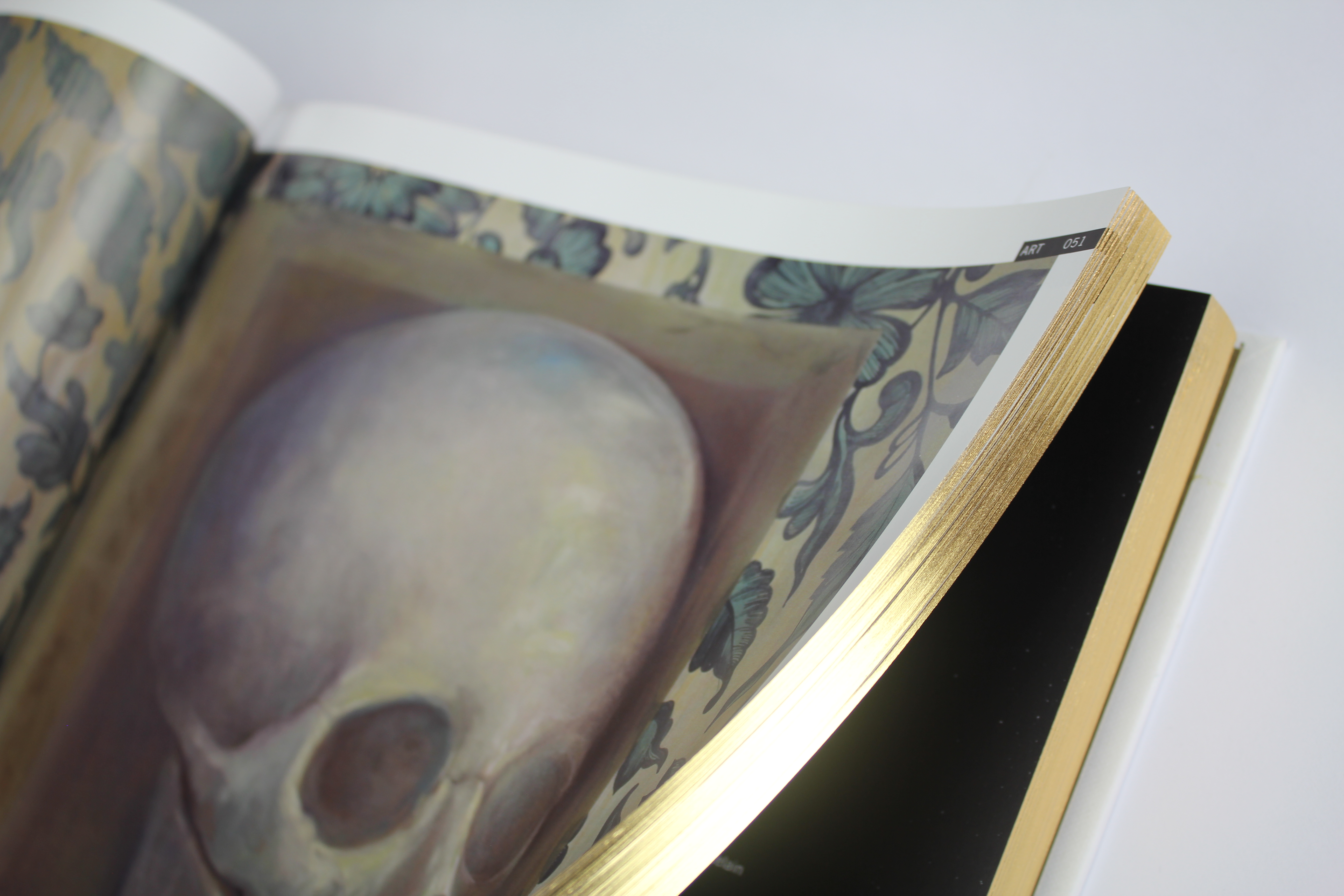 Second Skin
The Erotic Art of Lingerie
Produced by
Patrice Farameh
Designed by
Mike Meiré
Published by
Daab
Sexier than nudeness is a body suggestively wrapped in satin and lace - what women have known for centuries and men will be eager to confirm. Once kept demurely concealed, lingerie now pervades every fashion category, inspiring designs for day looks, loungewear, evening clothes, and accessories. This book lusciously invites the reader to enter the world of contemporary lingerie design, seductively unveiling all that the heart desires with countless photographs of corsets, garter belts, brassieres, negligees and many more stunning accessories beyond the purely practical.
For Which it Stands
Americana in Contemporary Art
Produced by
Patrice Farameh

Curated by
Carla Sakamoto

Designed by
Susanne Schaal

Cover Artwork by
Tom Friedman

Published by
The Curated Collection

What do Mickey Mouse, Coca Cola, McDonald's golden arches and the stars and stripes all have in common? They are all stamped with an illustrious, invisible but totally obvious seal that proclaims, "Made in America." These images and others like them have become stand-ins for the country itself, recognizable to people all over the world. With bright colors and radical designs, they symbolize the United States, a place heralded for its wealth of opportunities and the rich creativity that can only thrive in a land of the free. Whether produced as the result of rags to riches stories, or as allegorical takes on a fascinating culture, these images provoke spirited responses the world over, attaining cult status on a global level. For Which It Stands presents a collection of contemporary artists working in diverse media who use these traditional American icons to relate their own inspired ideas.

34.3 x 24.8 cm
13.5 x 9.75 inches

400 pp. hardcover
Over 200 color photos

Cover Artwork
Untitled (back of dollar), 2011 by Tom Friedman
Courtesy of the artist Tom Friedman, Luhring Augustine, New York and Stephen Friedman Gallery, London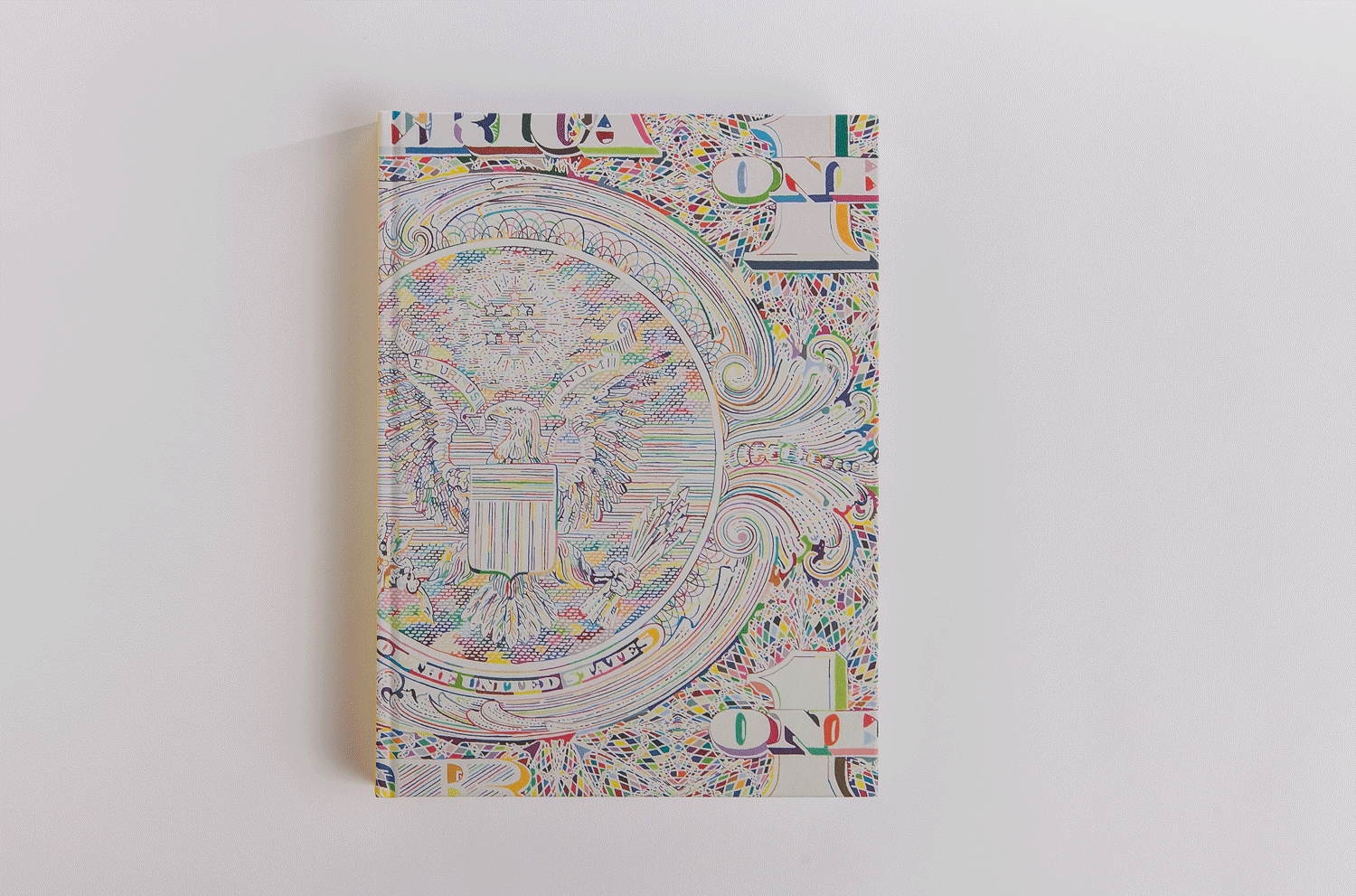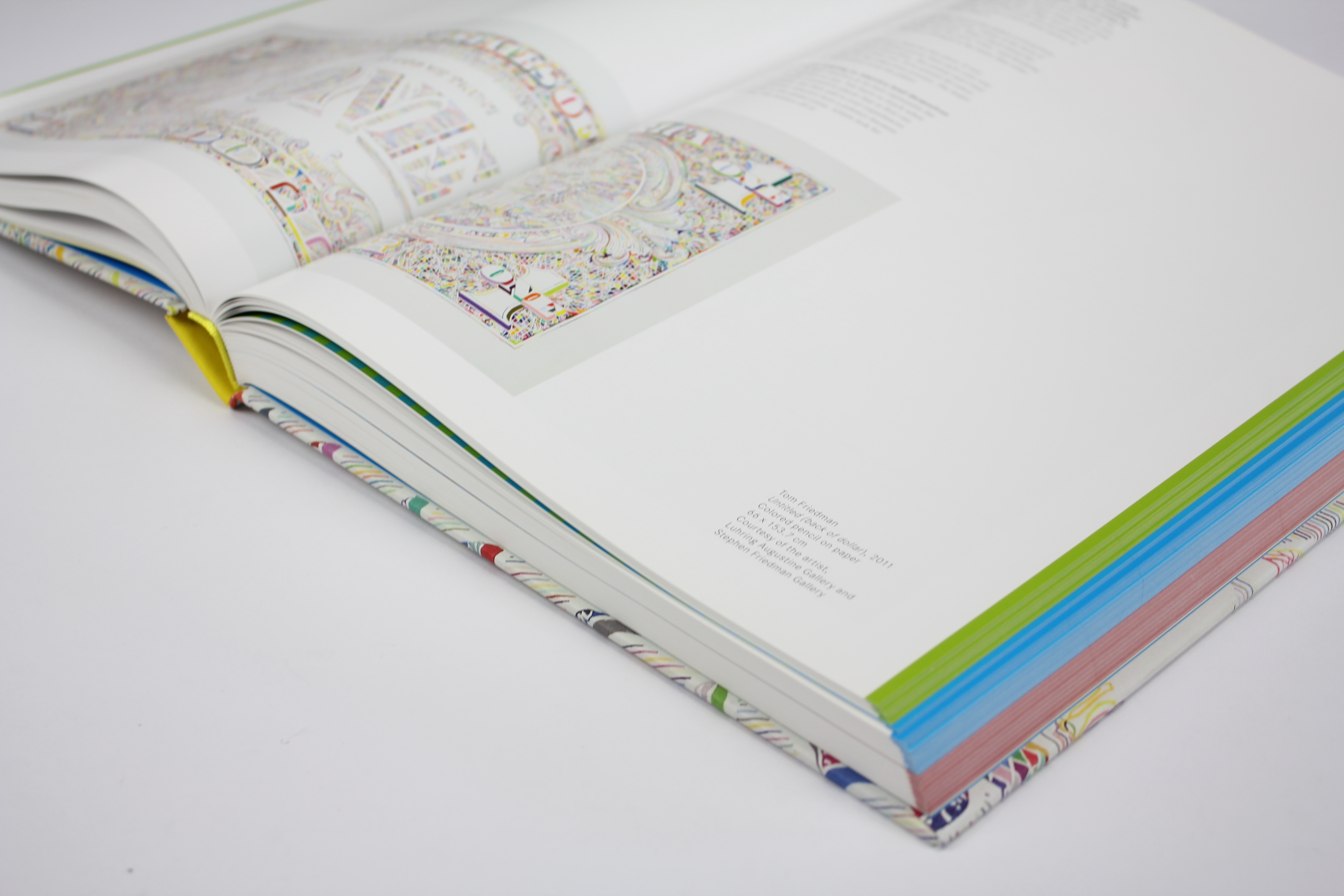 Limited Fine Art Editions
For Which it Stands: Americana in Contemporary Art
Artist Collaborations:
D*Face
Kevin Berlin
Jeremy Dean
Penny
Zevs
Peter Tunney

Concept by
Patrice Farameh

Designed by
Susanne Schaal

Published by
The Curated Collection

Each book transformed into original works of art, hand signed and numbered by six contemporary artists. Entire art series limited to 100 editions.

What do Mickey Mouse, Coca Cola, McDonald's golden arches and the stars and stripes all have in common? They are all stamped with an illustrious, invisible but totally obvious seal that proclaims, "Made in America." These images and others like them have become stand-ins for the country itself, recognizable to people all over the world. With bright colors and radical designs, they symbolize the United States, a place heralded for its wealth of opportunities and the rich creativity that can only thrive in a land of the free. Whether produced as the result of rags to riches stories, or as allegorical takes on a fascinating culture, these images provoke spirited responses the world over, attaining cult status on a global level. For Which It Stands presents a collection of contemporary artists working in diverse media who use these traditional American icons to relate their own inspired ideas.

34.3 x 24.8 cm
13.5 x 9.75 inches
400 pp. hardcover
Over 200 color photos

ZEVS
Liquidated Yes, 2013

Zevs first gained renown as a street artist in Paris during the 1990s, acquiring his pseudonym from a metro train that almost hit him. Zevs' body of work involves performance at its core, beginning with a series of performances entitled "Visual Attack," where he attacked several public advertisements with artistic 'bullet holes' and trails of blood. His most notable work is his "liquidation" technique, with which he transforms seemingly solid images into evocatively dripping ones that are more unstable than they seem. His 20 limited edition covers for FOR WHICH IT STANDS electrify with their enigmatic and playful manifesto on the American system, from the fascinating perspective of a foreign-born street artist who has inextricably felt the influence of this
young nation.

24-karat gold printed on For Which It Stands Limited Edition book cover

35 x 25.5 cm
Edition of 20
Signed and Numbered

JEREMY DEAN
Democracy, 2013 (diptych)

Jeremy Dean's work spans the spectrum of film, animation, drawing, interactive sculpture, and installation. Early in his career, Dean created the film "Dare Not Walk Alone," which received numerous awards and a theatrical release. He was inducted into the Writers Guild of America in 2008 and was given screenings at BAM, Skirball Center in Los Angeles, and the Martin Luther King Center. He has been exhibited internationally in galleries, museums, and art fairs; his largest work to date, a Hummer H2 transformed into a horse-pulled stagecoach, received much critical praise. His cover concepts for the FOR WHICH IT STANDS limited editions draw on his ideas of the projected image of America as a symbol for freedom, elevating the hardcover to a bold new statement utilizing recognizable references.

Gold, monoprint and screenprint on For Which It Stands Limited Edition book cover

Diptych, 35 x 25.5 cm
Edition of 20
Signed and Numbered

PENNY
Tender Tears, 2013

Penny was educated at Chelsea College of Art and Design and Central Saint Martins and upon graduating quickly established himself within the stencil art scene in London. He has taken the art of stenciling to Zen-like heights, dedicating himself to pioneering the art of cutting, whilst still maintaining a succinct and boldly recognizable style. His process is intensely labored, sometimes taking hundreds of hours to cut every elaborate detail, ensuring every image is seminal and every release an instant sell out. He has created ten pieces for the covers for FOR WHICH IT STANDS, each an outstanding example of his skillful, time-consuming work and inspired commentary on currency. In the adroit hands of Penny, the value of this object is recognizable at first glance.

12 layer hand-cut stencils
spray paint on For Which It Stands Limited Edition book cover

35 x 25.5 cm
Edition of 10
Signed and Numbered

D*FACE
WW4 What Wars Are For, 2013

When D*Face realized he could make a career out of his artwork, he started a secret project to test the publics awareness and hesitation when faced with alternative advertising. There was no specific goal in mind; the project was merely a test of "cause and reaction." It's no surprise that his early influences began with books on graffiti art, cartoons, comics, skateboarding and early Thrasher magazines. Through his artwork, this London-born artist hopes to spark subversive sentiments against the status quo relationship between society and media. D*Face adopts iconic images from the media and converts them into satirical characters that he can use to propagate his creative messages. He created 20 limited edition, graphic covers for FOR WHICH IT STANDS, that capture his tongue-in-cheek signature style of anti-establishment imagery.

Blowtorched cover, silkscreen on painted paper, For Which It Stands Limited Edition book cover

35 x 25.5 cm
Edition of 20
Signed and Numbered
KEVIN BERLIN
Fuck You (Marlboro cigarettes), 2013

Kevin Berlin is an internationally renowned artist whose works can be found in the collections of international celebrities and dignitaries. A Yale University alumnus, Berlin also studied at the Slade School of Fine Art and is a recognizable figure on the international art circuit, who has appeared in The New York Times Magazine, Shanghai Daily, The Miami Herald, USA Today, Tokyo Television, BBC Radio, and over 40 television stations across the United States. He was also honored by President Reagan at The White House as a Young Arts Presidential Scholar in 1983. Born in Rochester, New York, Berlin currently lives and works in Florence, Italy, and Southampton, New York. His ten, one-of-a-kind oil paintings for the FOR WHICH IT STANDS limited art editions are eye-popping examples of his exceptionally detailed work.

Fuck You (Camel cigarettes), 2013 Hand painted oil directly on For Which It Stands Limited Edition book cover

35 x 25.5 cm
Edition of 10
Signed and Numbered

PETER TUNNEY
Americana, 2013

Peter Tunney, the mad genius behind the catch-phrase-stenciled collage paintings, leaves his indelible mark on the covers of FOR WHICH IT STANDS with 20 limited edition copies, each made with his distinctive brand of artistic vigor at the famed studio space, The Peter Tunney Experiment, in the heart of TriBeCa in New York. Who better to comment on Americana but this true New Yorker dynamo who has lived the American dream and then some? He went from being a young used car dealer to an eighties Wall Street investment banker, to managing the legendary Peter Beard, to a hard-partying artist sought after by socialites and celebrities, to a dedicated and philanthropic spiritualist all in one lifetime. Tunney's intelligent, powerful and inspiring artistic messages truly makes this concrete object come alive.

Acrylic paint, hand-pulled double silkscreen over collage of mixed media on For Which It Stands Limited Edition book cover

Diptych, 35 x 25.5 cm
Edition of 20
Signed and Numbered